Chimamanda Ngozi Adichie recently responded to criticisms that have long trailed her on social media, ranging from her views on trans women to her strained relationship with some younger writers who she worked with at the Farafina Creative Writing Workshop.
Since its publication on her personal website on June 15, the essay has taken on a life of its own and kindled a staggering range of debates around transphobia, feminism, social media culture, youth culture, friendship, and literary culture. The NYT, The Guardian, NPR, as well as The Daily Mail have all run stories on the essay.
Watching things unfold over the past two days has been difficult for me personally and as the editor of an African literature platform. Chimamanda Adichie and Akwaeke Emezi are two respected writers in the literary sphere. Both writers have been instrumental in shaping contemporary African literature and have both contributed to expanding the global visibility of African literature.
For us at Brittle Paper, the public debacle of their relationship is not simply news or just another social media drama. It is the unwinding of ties that make all of us a community. That is why I am deliberately choosing not to report the conflict as cold, hard news. [We might do some kind of timeline post for the sake of documenting the community, but that will have to come later.]
At Brittle Paper, we pay close attention to the lives of writers. We knew Emezi and Adichie before they became friends, and we have documented their friendship. In 2015, we published this essay by Emezi in which they talk about their experience at the now infamous Farafina Writing Workshop. It has been heart breaking to watch things devolve and become so vitriolic and explosive. While I am still processing this bitter showdown, I don't have any grand intervention to make except to offer an analysis of the stakes as I see it and comment on its long-term ramifications.
Adichie's essay is broken down into three parts. The first two parts are centered on individuals who Adichie say betrayed her trust and friendship. She details the incidents leading up to the breakdown of these relationships. Even though she talks about two different individuals, public scrutiny has mainly focused on incidents having to do with the second account involving the Nigerian-Tamil writer Akwaeke Emezi, a novelist who identifies as non-binary. The final section of the essay is a reflection on social media culture, which Adichie suggests accounts for the way she was treated by the two writers.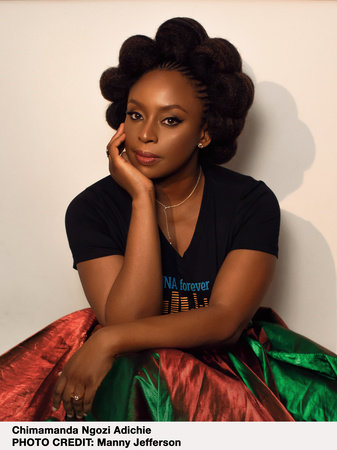 The goal of the essay seems to be to break the silence around what Adichie sees as a long-running attack on her reputation and person by these writers. She dissects what she believes is wrong about the way they handled their disagreement with her comments about trans women. [To read more about the controversy surrounding these comments, go here and here.]
"After I gave the March 2017 interview in which I said that a trans woman is a trans woman, I was told that this person had insulted me on social media, calling me, among other things, a murderer. I was deeply upset, because while I did not really know them personally, I felt they knew what I stood for and that I fully supported the rights of trans people, and that I do not wish anybody dead."
Emezi, she explains, acted as someone "for whom friendship, and its expectations of loyalty and compassion and support, no longer matter." Adichie perceives Emezi's actions as a violation of something deeply personal, in addition to being symptomatic of a larger problem with contemporary digital culture.
As Emezi's response, which can be found here, shows, they see the problem entirely differently.
"To understand that someone you rooted for so deeply denies your existence, and to deny your existence means they don't want you to exist, for which you would have to be literally dead…She wrote an incendiary post that she knew would send hundreds of transphobic and homophobic people to our social media, flooding our mentions with violent comments what do you think her goal was with that?"
It appears that, for Emezi, the conflict goes beyond the mere breakdown of a shared friendship or the failed relationship between a student and teacher. They see Adichie's comments in larger terms, as symptomatic of the larger discrimination to which trans people are subjected.
This is, thus, where the gridlock lies: While Adichie and her supporters see the conflict as originating from but not centered on Adichie's comments about trans women, Emezi and their supporters see Adichie's comments about trans women and what these comments might imply about Adichie's beliefs regarding trans experiences as the crux of it all.
There is a long history of quarrels between writers, whether William Thackeray and Charles Dickens or John Updike and Salman Rushdie (see here:). African literary culture is no stranger to such feuds either. Wole Soyinka's Republic of Liars series is dedicated to addressing some of these rifts between him and fellow scholars. However, the ongoing public falling out between Akwaeke Emezi and Chimamanda Adichie that we are witnessing in real time feels like a rupture in the fabric of our community. In the coming weeks, we will dissect the terms of this conflict, sorting through the details in order to say something meaningful about what actually happened. And we should. But right now, the rooms where these conversations are taking place feel rowdy and airless. There has been so much talk about what was said, how it was said, or how what was said could potentially be understood or misunderstood. Sometimes, it feels as though no one is hearing or seeing the other.
The last 24 hours, my eyes have gone sore scrolling through hundreds of tweets, trying to make sense of things. There is a part of me that came close to giving up at the" shouting-ness" of it all. I wanted to dismiss it all with the conventional belief that social media is a space of unreason where people scream across chasms of echo chambers. But I had to stop myself because there was something about drowning myself in these tweets that actually helped me find my bearing. Hearing hundreds of people comment on one thing a hundred different ways enabled me to think in a textured and considered way about feminism, trans experiences and the complications that have always dogged the idea and politics of womanhood and queer subjectivity. It also helped me think about the complications of personal relationships.
So while it is unfortunate that Emezi and Adichie have had such an explosive falling out, their conflict may eventually give us the space to think more rigorously and deeply about issues that bear on the life and survival of everyone in our communities.
***Dr. Ainehi Edoro is the founder and editor of Brittle Paper. She is an Assistant Professor of Global Black Literatures at the University of Wisconsin-Madison where she teaches and researches on African literature and digital culture. This piece, which appeared originally in BrittlePaper under a different caption, is published with the kind permission of the author.