There is a certain kind of utopia borne aloft by nostalgia in the words of yesterday's men, depending on the length of their years.
It is typical to hear them talk, rather lovingly, about times past, about fashion trends that have gone out of vogue, about the music of their time. It is ultimately about that thing that gives time relevance: nostalgia.
Ask your parents about the music of their time and watch them age backwards to their youth; watch their old faces light up, fingers snapping an old tune and bodies making grotesque, bone-threatening moves.
Think about what is known as the Golden Age of Music in West Africa. It was a time from the late 40s to the mid-60s. It was an era that produced some music that endures till date. These songs remain with us today, a consequence of the reigning rpm technology at the time and the memory and longevity of their fan base.
It was a time when highlife cleaved out of its colonial consequence, a time when music with native aesthetics began to flower.
There was Bobby Benson, that impresario in Lagos, his wife Cassandra, his stomping ground, Hotel Bobby or Caban Bamboo, his band, the Jam Orchestra which was school to some of the finest highlife musicians that our country ever produced. In Ghana, there was ET Mensah, the pharmacist turned trumpeter who had knocked out his incisors for the greater calling of brass.
If there is anything that these old generation could learn from their progenies, it will be to have added a plural indicators to their highlife, which, arguably is an aesthetic rather than specific style of music. There were different kinds of highlife(s) and the music itself borrowed irreverently from calypso, ashiko, apola, soukous and many other genres, both older and contemporaneous.
And if highlife was at the top of the pecking order of popular music, there were sister genres or variants like agidigbo, sakara, apala and juju, which dominated the south-western Nigeria, specifically, Lagos. Juju will later rise into fame in the 70s but only after the Civil war decimated the popularity of highlife.
The Yoruba, ever vivacious, are not immune to a good time. Faaji is what they call that winding down that typically begins at the day's end, in the company of others, with banter and fine music, typically guitar-driven.
*
Faaji Agba, a documentary film directed by Remi Vaughan-Richards, was recently available for limited viewing on Vimeo to celebrate World Music Day.
I remember watching this film at least 4 years ago at Lights, Camera, Action Film Festival and missing out the first few minutes. Lagos traffic remains unforgiven for my miscalculation but I have since remedied that experience in the comfort of my own front room.
Faaji Agba follows the eponymous supergroup of seven Yoruba musicians aged between 65 and 85 years through a six year journey. The group was inspired by Kunle Tejuoso, owner of Jazzhole, who is credited for rediscovering Fatai Rolling Dollar, a strong member of Faaji Agba group.
Largely the characters followed by Faaji Agba are musicians who have gone past their prime. Rolling Dollar had been in a band with J.O Araba alongside Seni Tejuoso "Tejebaby" in the 50s. Alaba Pedro played alongside famous trumpeter and highlife maestro, Roy Chicago. He was popular in his time as a palmwine highlife musician who ran the official band for the West Nigerian premier, Chief Obafemi Awolowo. SF Olowokeere played a brand of juju music that borrowed from the tessitura delivery of Tunde Nightingale is a contemporary of Ebenezer Obey and King Sunny Ade. He scored a hit song called 'Oge Gele' in the 70s when juju music was in its prime. Prince Eji was a saxophonist who played with Bobby Benson and Adeolu Akinsanya before forming his own band. Oguns is the exception; he did not set out to be a musician but having always been in the company of musicians, he picked up music in his twilight. Sina Ayinde Bakare, a fine guitarist and musician in his own right, was the son of Ayinde Bakare, the juju maestro famed to have introduced the electric guitar into the music in the 50s. Understandably, he is the youngest in the group and somewhat the anchor point.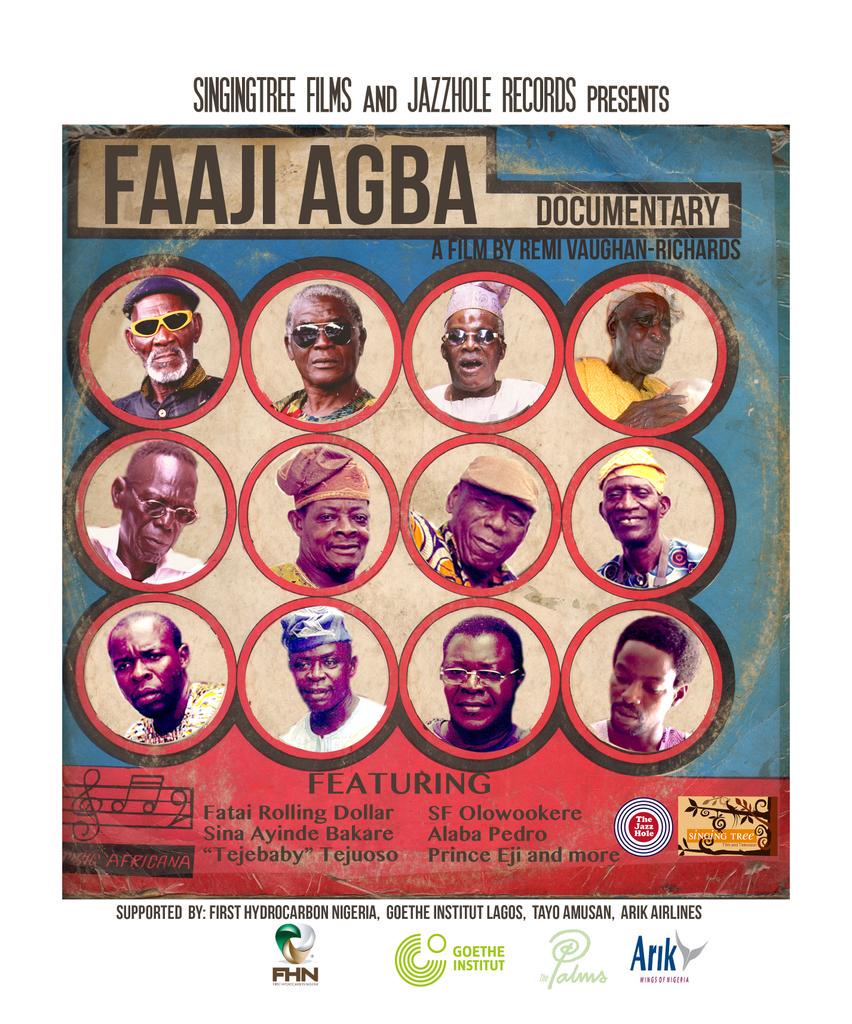 The film explores the formation of the supergroup from its infancy through rehearsals , through two shows at the Eyo festival years apart and an American tour in between. But given the age of these musicians, it is a timely record that dealt with their mortality.
A foreboding sense of this is introduced quite early when we all witness the delayed funeral of the blind minstrel, Kokoro. Kokoro was a part of the fabric of Lagos society since the 1940s. Blind from birth, he inspired the protagonist of Cyprian Ekwensi's novella, Drummer Boy. He has also inspired a statue in the heart of central Lagos. King Sunny Ade once opened for him in show. But these did not prevent a life of poverty, Kokoro died in his old age but his funeral almost did not happen. It was pitiful to watch the unravelling of his wife who was waiting at the church for his corpse that seemed delayed for reasons not divulged in the film. Eventually, his remains arrived in the evening and he was unceremoniously interred. A speck in our history, even as looming figure in our collective rembrance but largely forgotten as a person.
*
Faaji Agba reminds us that we must not forget. This is also the bane of popular music. It also reminds us that we select. This is why for every popular musician who hits limelight, there are at least a thousand lurking in his shadows.
There was a time when Rolling Dollar and Teje Baby were popular musicians, even though they were rejected by their conservative families who surmised that pursuing a career in music was an act reserved for scoundrels. It is this familial dynamic that is explored in Easy Motion Tourist, a song inspired by Teje Baby's personal experience who was said to have been locked out of his affluent father's house.
Easy Motion Tourist is one of the evergreen songs that remains in our collective memory. Popularised by a host of covers including King Sunny Ade's protracted version on his Grammy nominated album, Faaji Agba is where the original owners of the song claim ownership.
As expected of a film about people who have been once famous, there is an interesting group dynamic. The film luxuriates in the happy-go-lucky character of Fatai Rolling Dollar whose downfall was accounted for by the army invasion of Fela's house in the late 70s. It is his renaissance and late flowering that provides us with this auspicious documentary. He is easily the Rock star of the show, to the envy of his other group members, especially Alaba Pedro.
Alaba Pedro seems always miffed by this fact. He had enjoyed his stint, his quasi-civil servant type life, as a leader of Awolowo's band. Teje Baby, born into affluence, appeared mute and ailing, but every time the camera shed light on him, he appears graceful.
SF Olowookere should have been a Juju star but for the sleight hand of fate and publishing with the wrong music company. It is heart-wrenching to hear the true story of how his biggest hit was written and performed. It is even more heart-breaking to watch his son rifle through his books of lyrics after his passing. They sing his songs in a voice similar to their late father and their mother, fighting tears.
*
Faaji Agba feels like our own Buena Vista Social Club documentary, but without a compilation of the original soundtrack.
A compilation of some of these songs has been published by Jazzhole Records but it misses that SF Olowookere-led One Pound song which was such a hit, rousing interest and dance from Lagos to New York.
Produced on a shoe string budget, one cannot but marvel at the dedication and care Remi Vaughan-Richards sheds on her real-life characters. She tells their stories with dignity, their jokes, their impish boyishness, even altercations when they audit their abysmal performance at their first outing at the Eyo Festival. She follows them to their final resting places, captures the choreography of their pall bearers and dignifies their exit. Music may be eternal, but musicians are mortals.
Faaji Agba shows us a dying culture among musicians; that camaraderie and group culture that has now been reduced to the producer and singer mutualism popular in digital music. The studio has become the hallowed ground, the loitering place for musicians. Rehearsals have been replaced by dutch courage and hardly will you find musicians who discipline themselves in making their music live. That essential and peculiar group of people called "session men" have been replaced by computers.
Of course, Brymo is an exception, a leading vanguard in the alternative music scene. Popular music has been largely digitised, a product that requires fewer hands with even fewer expertise.
Kunle Tejuosho disrapages this current wave of music somewhere in film, when he references Bracket's 'Yori Yori' and he is right, where is that song today. But he is also wrong, popular music, regardless of their timing, hardly has staying power.
The Afrobeats generation don't get enough credit for the storms they weathered. They don't get enough recognition from the culture they evolved from. When Afrobeats began, it was from the Hip-Hop traditions of ciphers. The DJ at Turn-Table drops a bit and rappers begin to rap, singers begin to mime that American culture that has infiltrated our radio and Television. To tackle this music for not ascribing to the tenets of live music seems rather surly.
Live music oncerts like Afropolitan Vibes which ran its course as a response to the Afropolitan ingress at the instance of Nigeria's most recent financial boom played an important role in bridging that gap of contention. It is rather sad that it has lapsed into a hiatus.
Elder's Corner, a new documentary film with a similar ethos with Faaji Agba, produced by Siji Awoyinka is due to premiere at the Sheffield Documentary Festival this year. It adds to the growing corpus on our yesterday's men, hopefully before they all answer the greater call.